MURRURUNDI locals and owners of Magpie Distilling, Geoff and Nikki Drummond have been awarded $100,000 as part of the first instalment of the New South Wales Government's Regional Job Creation Fund.
So far, 650 NSW businesses have applied for the Regional Job Creation Fund, which was created to combat rising unemployment rates driven by Covid-19.
Geoff and Nikki said they are stoked to receive the funding, as it will help them grow their Murrurundi-based business and employ locally.
"Magpie Distilling is absolutely delighted to receive this grant, $100,000 I guess in the scheme of government expenditure is not a huge amount, but it's actually going to make a huge difference to us," Geoff Drummond said.
"It's going to allow us to expand our production by eight fold, we're going to be able to employ people at our distillery with the economy increase that is going to attach to all of that," he said.
Deputy Premier John Barilaro and NSW Treasurer Dominic Perrottet were keen to sample Magpie Gin this morning's announcement at Murrurundi's Whit Hart Hotel, both making sure they purchased a few bottles before leaving.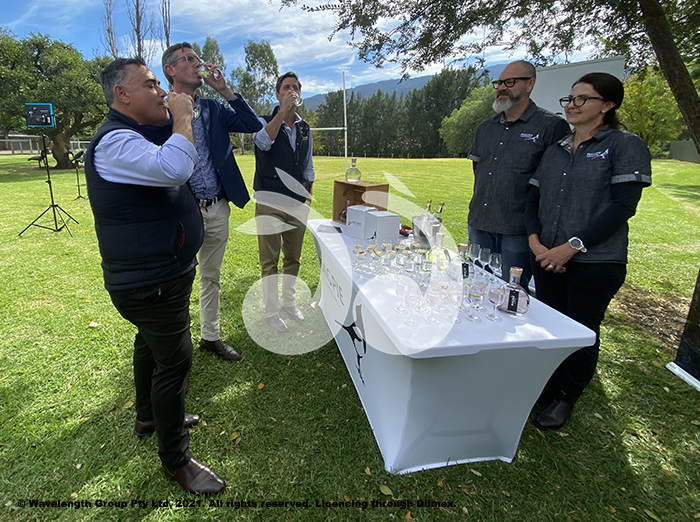 Treasurer Perrottet said last year the state was looking at a 15 percent unemployment rate, which has now decreased to just 5.4 percent.
"This is a fund where private businesses work in partnership with the government to drive job growth in NSW," said Mr Perrottet.
"This is a win-win, we've always said during the pandemic, we would prioritise the economy over the budget. We want to make sure that small businesses continue, not just to survive but to grow and flourish," he said.
Magpie Distilling is one of the 23 funding announcements to be made this week, with more successfully applications expected to be announced in coming months.
Mr Barilaro said today's announcement was not part of a campaign promise and the government was just lucky there was a funding recipient from Murrurundi.
"This was a program that was before the by-election. The by-election has become a speed bump, a nuisance in one way, in the way of business is usual for me as the Minister and as the government. We're dealing with a pandemic that impacted on the economy and jobs," Mr Barilaro said.
"These are applications that have been in play for months pre-by-election but we're just lucky there was one here in Murrurundi that I believe was worth talking about today. It's one of the very first through an independent process through the privation process of government," he said.
"We go through a process, through the expenditure review committee. This is tax cash dollars going to private business and under that there's a lot of scrutiny . . . to make sure everything's legit and transparent," said Mr Barilaro.
Applications for the Regional Job Creation Fund are still open until 5.00pm on Friday, May 14 2021.
Tags: job economy, Magpie Distilling, murrurundi, NSW Government, NSW Regional Job Creation Fund