THE Gundy Bushman's Carnival this weekend, November 14 and 15 at the Gundy Recreation Grounds.
There is free entry to the carnival but there will be a 500 person capacity limit.
Everyone must sign in upon arrival, as normal COVID-19 restrictions apply.
"It's fairly localised this year because of this virus, restrictions have been eased but we've still got to be very vigilant," said Gundy Bushman's Carnival president, Paul Metcalf.
"It's not as big as we'd like it to be because of all the contributing factors but it's good to get the show on the road.
"Everybody's sick of being stuck at home.
Scone.com.au will be live streaming from the Gundy this afternoon, as the 450 head of cattle begin their journey to the grounds.
"We have a very small committee but there's a lot of people who volunteer to help," said Paul.
"We're walking the cattle down the valley on Wednesday, Thursday and Friday and back again Sunday, Monday and Tuesday.
"Cattle only walk, they don't run," he joked.
The event comprises of a $3,000 novice event, a $200 juvenile event and $100 myra floyd junior cut out event on Saturday, followed by a $2,400 maiden event and the $1,500 open novice finals on Sunday.
Events start at 6am on Saturday and conclude at dusk on Sunday.
Overnight camping will also be subject to COVID-19 restrictions.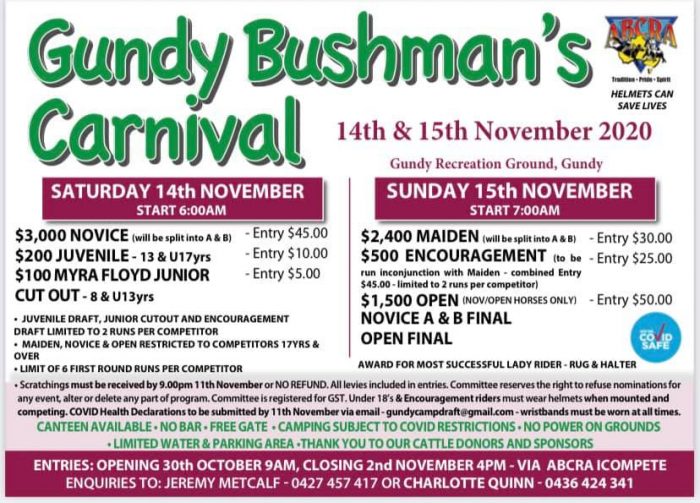 Tags: campdraft, Gundy, Gundy bushmans carnival