TWENTY million dollars has been allocated to the Scone Race Club as part of the 2021-22 State budget, with money going towards a $4 million polytrack upgrade and $16 million worth of new stable facilities.
The $67 million racing package will be delivered to 21 race clubs throughout New South Wales, with Muswellbrook Race Club also to receive $4.2 million.
Racing New South Wales Chief Executive Officer Peter V'landys said he anticipated the funding announcement an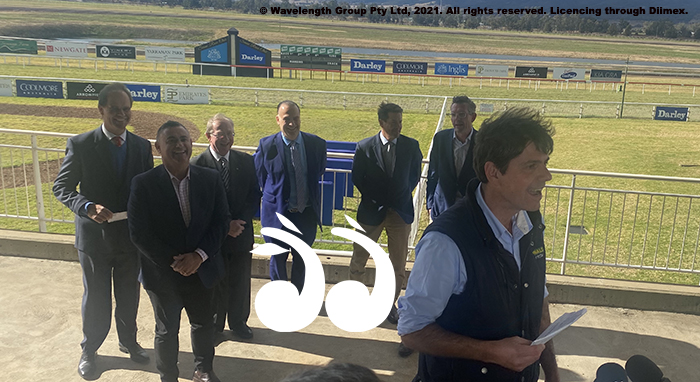 d expects the Scone Race Club works to be completed within 24 months.
"We've actually anticipated this was going to happen and we are well underway. Paul Messara presented us the master plan, which we will use to get it started pretty quickly, we'll build 600 stables straight away, we'll put the polytrack in straight away," Mr V'landys said.
Mr V'landys made an effort to point out the $67 million package was not a "handout" from the government, but an investment strategy.
"I can assure you Dom Perrotett doesn't give money out . . . we had to show a business case where for every dollar the government puts in, they get $1.60 back. They're going to get a substantial return on the investment they've made," he said.
"The government always takes from racing, they never give back, so it's a pleasant surprise that we've gone from overdraft into credit," joked Mr V'landys.
Deputy Premier John Barilaro and Mr V'landys said the $20 million upgrades will compliment the recently purchased Flemington Drive TAFE site, increase local jobs and boost the tourism economy.
"It's our commitment to show we care about an industry that is a big part of the future of the Upper Hunter, including the investments, the work and the partnership we have with Racing NSW for repurposing the old Scone TAFE site here," Mr Barilaro said.
"The racing industry employs a lot of unskilled labor, so we're a very important industry in that regard. Having the TAFE here now will enable us to train that unskilled labor to make their job safer and get new entrants into the industry because we do have a massive shortage at the moment," Mr V'landys said.
Upper Hunter Shire Mayor Maurice Collison and General Manager Greg McDonald also attended today's announcement, after providing the party of politicians with a tour of the Scone Airport upgrades across the road, which is on track for completion this November.
"We see this as complimentary to the airport, we can get people into Scone really easily and quickly now. The accommodation is now the next piece of the jigsaw puzzle, because we really need accommodation in Scone itself and some of the satellite villages and areas throughout the Shire," Mr McDonald said.
"This has been in the making now for quite a while, Council has had a few meetings with the powers to be over this," Cr Collison said.
"It's great backing to our airport project and a great thing for the Shire," said Cr Collison.