"Really it's not their birthday at all for the vast majority, it's a bit like the Queen's birthday," laughed Bill Howey local historian and well known veterinarian.
"It has become the accepted mantra, it actually comes from the thoroughbred world really and the rules put there by the various jockey clubs who control the stud books," he explained.
The standardised birth date set by stud books for thoroughbreds in the northern hemisphere is January 1 and in the southern hemisphere is August 1, but the stud book rules have changed recently to account for the variability in gestation.
"The thoroughbreds were not supposed to be born before the August 1 and if they were they were a year old the next day, so if they were born today, they'd be a yearling tomorrow," said Mr Howey.
"The late John Digby who was a keeper of the stud book he died only about a month ago, he changed the rules and said you can cover your mares but not before September 1 and even if the foal is born in July it is ok," he said.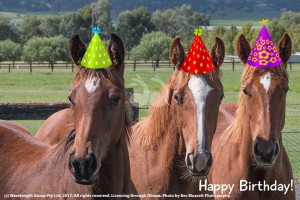 "The gestational length of thoroughbreds on average is 344 or 345 days, but normal can be anything from 330 to 355 days, so you've got this wide variation in gestational length which can make it difficult," he said.
"And mares to a certain extent can control when they do foal, 80 or 90 percent of foals are born between 11pm and 2am in the morning, because 10,000 years ago you had to get the foal up and running before the predators the big cats started coming around in the morning, so a mare should be up and running in a few hours," he said.
"And that's why because the variability of gestational length that's why these rules need to be a little bit flexible as well," Bill Howey said.