THERE has been 35 new local cases recorded in New South Wales today, with 33 of those linked to known clusters, 20 to household contacts and two that remain under investigation.
There are currently no recorded cases in regional New South Wales and lockdowns in Greater Sydney, the Blue Mountains, the Central Coast and Shellharbour regions will remain until July 9.
Last week, Prime Minister Scott Morrison announced a four-step vaccination plan aimed at bringing Australia to a post-Covid-19 life by boosting vaccines, reducing community transmission and eventually, eliminating lockdowns.
See four-step plan breakdown below
Mr Morrison said under the plan's first phase, lockdowns will be used a "last resort" and vaccinations will be mandatory for all residential aged care workers and workers directly or indirectly involved in managing quarantining.
"When it comes to the issues of mandatory vaccines, this is not something that any government should do lightly, imposing on a person the requirement to have a vaccine or not be able to work in a particular sector is something that no government would do lightly," Mr Morrison said.
"I'll leave that to the states and territories because they're the ones who are principally, who will be undertaking that work, but you can put that to each of the states and territories about when you believe they, when they believe they'll be able to achieve that by," he said.
The completion of the first phase heavily relies on the successful vaccination of the Australian population, however this morning New South Wales Health Minister Brad Hazzard compared vaccine availability in New South Wales to The Hunger Games films.
"Until we get enough vaccine and enough GPs actually at the frontline able to provide that vaccine into arms, we will continue to have effectively The Hunger Games going on here in New South Wales," Mr Hazzard said.
This month, 2.8 million doses of Pfizer are expected to arrive, with a further 40 million doses due to arrive before the end of the year.
With the number of vaccines expected to become available, the Federal Government remains insistent that all Australians will be able to receive at least one jab in 2021, meaning phase one is likely to continue well into next year.
Four-phase vaccination plan breakdown:
Under the current first phase, 'vaccinate, prepare and pilot,' international arrivals will be reduced by 50 percent for at least six months, to alleviate pressures on quarantine systems.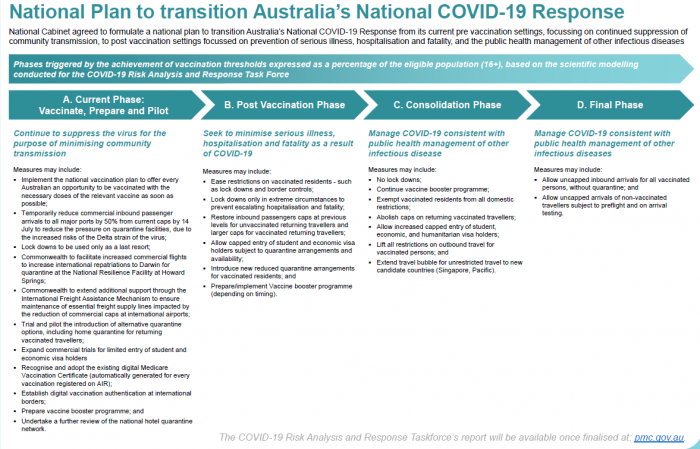 States and Territories will also trial alternative quarantine options, including home quarantine for returning vaccinated travellers.
Mr Morrison said research showed that a vaccinated person quarantining for seven days was stronger than an unvaccinated person in quarantine for 14 days. So far, only South Australia has agreed to trial the new quarantine method.
The second, 'post vaccination,' phase includes the restoration of the international flights cap for fully vaccinated travellers and an easing of overall restrictions for vaccinated persons.
The third phase, 'consolidation,' will involved booster vaccines, the elimination of lockdowns and Australians allowed to travel overseas.
The 'final' fourth phase will essentially involve the return of normality, but will include pre and post-flight testing for unvaccinated arrivals and the possiblity of a vaccine passport system.
Tags: Covid restrictions, Covid-19, covid-19 vaccine, Four-phase vaccination plan