PREMIER Gladys Berejiklian has warned New South Wales to prepare for a considerable increase in Covid cases, with 18 new local cases recorded from 58,870 tests over the last 24 hours.
Investigations are currently underway for one of the 18 cases which has not yet been linked to the existing Sydney outbreaks.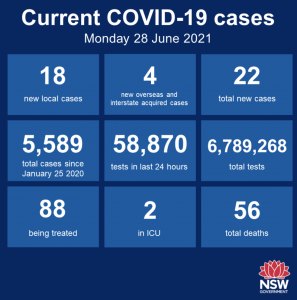 Fifteen cases have been linked to the Bondi cluster and two are close contacts of a previously reported unlinked case.
"We have to be prepared for the numbers to bounce around and we have to be prepared for the numbers to go up considerably," Premier Berejiklian said.
"With this strain, we are seeing almost 100 per cent of transmission within households," she said.
"It is really important for everybody to follow the health rules, to look for those venues of concern, to make sure you get tested and isolates if you have been asked to do so," she said.
Premier Berejiklian said the restrictions recently introduced to regional New South Wales are necessary to stop regional outbreaks, after a man who contracted the virus at the Norther Territory Granites gold mine returned to the Hunter.
"That miner was exposed to, I understand, 900 other people who are spread across regions across Australia, so just because there isn't a case there now, doesn't mean the threat's not there," Ms Berejikilian said.
"We have had movements between states and between individuals prior to those restrictions coming in," she said.
"Even though you might not have a case in your community, the restrictions are there to make that continue," she said.
Ms Berejiklian also stressed the need for additional General Practitioners (GPs) to sign up to deliver Covid vaccines when more become available.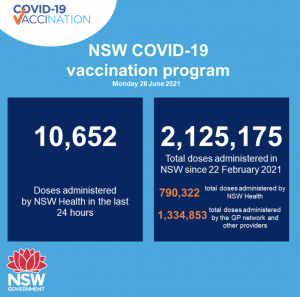 "What I and the New South Wales Government can't control is the [vaccine] supply," Ms Berejiklian said.
"I would like to make sure we have measures in place to increase capacity for those extra does. At the moment, we don't have enough GPs signed up and that has to happen across the nation," she said.
"If we want to get vaccinated in a timely way, we need more GPs signed up," she said.
For the latest information on close contact venues and locations, click here.
Tags: Covid restrictions, Covid-19, local covid cases, NSW Health, Premier Gladys Berejiklian