Joplin Lawyers – Positions Vacant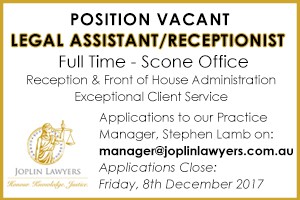 Joplin Lawyers is looking the perfect person to work with our George!
We are looking for a full time Front of House/Legal Assistant.
Joplin Lawyers is a respected boutique law firm best known for its wealth of experience in Family Law matters.  Joplin Lawyers also practice in the areas of Criminal Law, Conveyancing, Wills, Estate Planning and Equine Law.
Role and Responsibility:
Reception and Front of House administrative duties
Management of the Scone Office operations between Solicitors and our Accounts Department
Management of files
Assisting our Senior Solicitor George Fraser
Client liaison for George Fraser
Essential Skills and Qualifications:
Exception client service is paramount as well as sensitivity towards others
Impeccable phone manners
Ability to work within a team of professionals
Must have the ability to multi task
Proven efficiency in practical work
Strong reception and administrative experience
Dictation and formatting ability
Word and Excel efficient
Strong attention to detail and excellent communication skills
Experience working in a fast-paced environment with a can-do attitude
Value the confidentiality of our clients
In return, you will receive:
Ability to grow and learn, both personally and professionally
Friendly and cohesive work environment
Exceptional support
Being a valued member of our growing team
If you have the above skills and are looking for an exciting and rewarding career, please send your application to our Practice Manage, Mr Stephen Lamb on: manager@joplinlawyers.com.au
For further information about this position or the Company, please contact Mr Stephen Lamb on (02) 6572 2442.  We look forward to hearing from you.
Applications Close:  Friday, 8th December 2017
Please note that only applicants short listed will be contacted.