Richard Kelly: 1800-1879
The main street of Scone, Kelly Street, is named after Richard Kelly a sea captain who was given a grant of 1920 acres by Governor Darling in 1826, as compensation for the loss of two of his ships. The track through Kelly's Farm is still the path of Kelly Street today.
Seafaring days
Captain Richard Kelly was born on the Hawkesbury in 18001 and in his early twenties became the owner of the ship Black Jack. The schooner was carrying stores for the government, to the convict settlement in Port Macquarie, when it was shipwrecked crossing the bar in 1823.2
He was compensated by the government for the loss of the Black Jack and purchased another ship, the Isabella. In 1824 the Isabella was hijacked by convicts, never to be seen again:
"The Isabella was anchored off the bar at Port Macquarie, New South Wales when the pilot boarded the ship and ordered his crew to return at 2 pm to pick him up after crossing the bar. At 2 pm his crew returned but instead of taking the pilot on board, boarded the ship, seized the crew and headed out to sea with the ship. About four miles (6 km) off shore, the crew and pilot were cast adrift.
The Isabella was never heard from again and assumed to have foundered."3
Since the ship had been in government service at the time, Richard Kelly was compensated for the loss with a land grant of 1920 acres in Scone. Since land was plentiful it was common for the government to give land grants instead of money. Following is an excerpt from the The Sydney Gazette and New South Wales Advertiser:4

Kelly's Farm
The land was known as Kelly's Farm and stretched from Kingdon Ponds through what is now White Park, the High School and along Gundy Road towards Segenhoe.5
The track that ran through Kelly's Farm became the main street of Scone, still known as Kelly Street. The track also became the path of the Great North Road after William Nowland discovered Nowland's Gap over the Liverpool Range near Murrurundi. The Great North Road is now known as the New England Highway, which still runs through the township today.
Richard Kelly did not have the land for long, before selling it to another local landowner William Dumaresq in 1833, who was the first owner of the local property 'St Aubin's'.6 Kelly's Farm became part of the St Aubin's property.
Richard was not supposed to receive any grants or favours from the Crown following being caught trying to bribe a Storekeeper in Windsor in 1822:7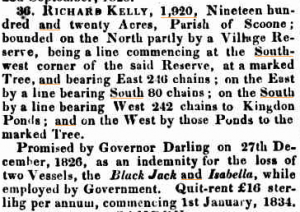 It is not clear if Richard ever lived on the farm. Captain Richard Kelly died in approximately 1879 in the Benevolent Asylum at Liverpool.8
Special thanks to:
Footnotes: