ENTRIES for the online 2020 Beef Bonanza Junior Judging Competition will open for two weeks starting next Friday, October 23.
Entry is free and open to all young people aged within primary and high school age groups.
This year the competition will be held virtually via the Beef Bonanza website and junior judges will be required to view images and videos, rank the animals from one to four and provide a three-minute video outlining their reasoning.
The competition presented by Achmea features three classes of beef cattle; Stud bulls, Stud females and Trade cattle.
Junior judges will be broken up into age groups including Primary, years 7-8, years 9 -10 and years 11-12.
On Friday, October 23 there will also be a live Question and Answer Session with industry experts, commencing at approximately 10:00am.
The Q and A will followed by a Live Meat Judging demonstration at approximately 1:30pm, conducted by Australian Intercollegiate Meat Judging Association.
The two sessions will be streamed via Zoom and are accompanied by extra pre-recorded educational webinars on the Upper Hunter Beef Bonanza website.
Entries for the 2020 Junior Judging Competition close on Friday, November 6 and results will be published online on November 20.
The Upper Hunter Beef Bonanza committee thanked their event partner Waverley Station Angus for their continuous ongoing support, as well as new sponsors Achmea farm insurance, Local Land Services and Hunter Valley Angus Breeders Association.
Beef Bonanza event details:
Junior Judging Competition: October 23 – November 6;
Live Q and A Session: October 23, 10:00am via Upper Hunter Beef Bonanza website;
Live Meat Judging demonstration: October 23, 1:30pm via Upper Hunter Beef Bonanza website.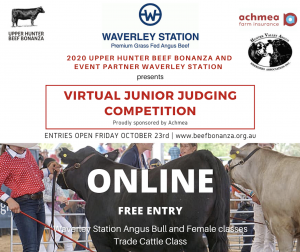 Tags: agriculture industry, Beef Bonanza, junior judging competition, Virtual, zoom