THE residents of Segenhoe Street, Aberdeen are relieved that the second tree with white ants has been felled, before it could fall.
The tree was one of two trees, which for years have been a safety concern for local residents, but their complaints to Council had fallen on deaf ears, until one tree fell onto Verona Bruin's house. (Read: Council refuses damage bill caused by their white ant riddled tree).
See link to A Current Affair story below.
Yesterday, a contractor for Council arrived and removed the second tree.
Once the base of the tree was cut, residents said the white ant damage was clear and they were shocked the tree was only held in place by one root, which was lifting.
"You could see the white ants were in the middle of the tree and had eaten at least two foot up the tree trunk," said Verona Bruin.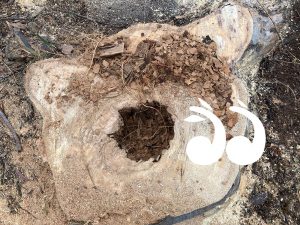 "But what really surprised us was there was only one root supporting the tree," she said.
"There were no roots going towards the road, just one that was on the footpath towards my house, probably trying to reach the water from my garden," she said.
"But we'd noticed that root before and noticed how it had been lifting, so the tree didn't have much support and we can see now we were lucky it was still standing," she said.
"I'm just really relieved it is gone and we don't have to worry about it falling and damaging the house again, or my neighbour's fence or worse hurting someone," she said.
"Where the second tree was, is where the children stand to catch the bus, so that was our biggest worry," Verona Bruin said.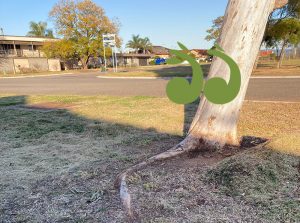 Council has claimed it has no records of complaints from residents prior to the first tree falling, therefore it is not liable for the damage it caused to Verona's house.
However, many residents assert they had complained to Council for years and will provide the evidence to Verona to help her get the damages she deserves from Council.
Verona has asked Council to provide all records and reports on the tree, but Council have not provided the information to her within the required 20 days and the matter has been referred to the Information and Privacy Commission for investigation.
See more photos below the A Current Affair story.
Verona also received another letter from Council last week saying they need more time to find the records and instead of charging her the standard $30 fee, they estimate they may charge her more than $400 and now require a $200 deposit before finding the records, which may prove their negligence. The Information and Privacy Commission may also investigate why Council does not have records of resident complaints readily available. (Read: Council hides tree information).
More photos:
Tags: Bruin family, Insurance, Segenhoe Road, Upper Hunter Shire Council, White ant tree