UPPER Hunter Services are hosting Christmas under the stars at the Moonan Flat Soldiers Memorial Hall tonight from 5pm to 8pm.
Locals are invited to bring a picnic blanket or pull up a chair and enjoy some time with family and friends however, social distancing will be required.
"This is the first time we've done a drought event out at Moonan," said Jessica Dallah, Community Capacity worker for Upper Hunter Community Services.
"It's just a social event for people to get together, see people they might not have seen for a little while.
"There's a free barbecue for everyone as well as drinks and there's also a photographer who is gong to take free family photos.
"Most likely we'll have some Christmas activities and we have some activity bags for the kids,"
Upper Hunter Services thanks their sponsors Newcastle Permanent and NIB for funding the event and giving assistance to drought affected families.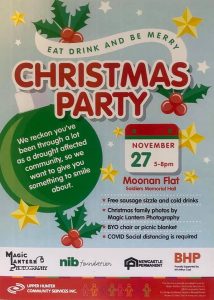 Tags: Christmas party, community services, merry, Moonan Flat