SHADOW Minister for Skills and TAFE Jihad Dib is challenging NSW Minister for Skills and Tertiary Education Geoff Lee to a local debate on the future of TAFE in the Upper Hunter.
Mr. Dib called for debate after the National Party failed to attend a community forum held in Scone last Wednesday, discussing the sale of Scone's Flemington Drive TAFE campus.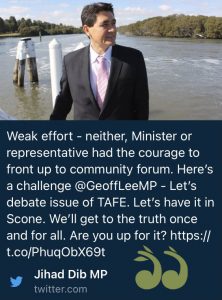 Despite not attending the forum, Mr. Lee released a media statement disputing discussions between community members and NSW Opposition Leader Jodi McKay, Greens MP David Shoebridge, Shadow Minister for the Hunter Clayton Barr and Mr. Dib, labelling them as 'Labor Lies'.
"Labor, the Greens and the NSW Teachers Federation came together to make a fool of the local community by pulling the wool over their eyes," Mr. Lee said.
"They ought to be ashamed, playing political games disguised as a community forum," he said.
Mr. Dib said an easy way to settle the different opinions on TAFE is by allowing a public debate to take place in Scone before it is officially debated in Parliament.
"The Minister or a Government representative didn't even have the decency to attend the meeting and have failed to give the community a chance to speak about their concerns," Mr. Dib said.
"They questioned what happened at the forum so okay, let's both go to Scone and we can answer public questions there and then," he said.
"It doesn't have to be a debate, it can be a community forum, it can be him and I answering questions. What I want is public accountability," he said.
Mr. Lee is yet to formally respond to Mr. Dib's proposal but said he will not get involved in Labor's scaremongering tactics.
"The sale of Scone TAFE has been debated in Parliament on numerous occasions," Mr. Lee said.
"The member for Lakemba is well aware that the sale will be discussed again in Parliament during the next sitting week," he said.
"The $4 million sale of the second Scone campus at 2 Flemington Drive will help to bolster investment in the area," he said.
"I will always act in the best interest of the community. I will not react to Labor and their pathetic attempt to mislead the people of Scone," said Mr. Lee.
Tags: Scone TAFE sale, TAFE debate